News > Honda Brio South Africa Update
2018-08-30 10:24:32
The new Honda Brio has injected a new, younger, 'vibier' feel to the Honda South Africa car range, as communicated by the edgy 'More Reliable Than Life' ad campaign.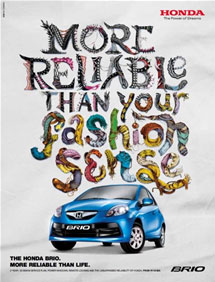 However as the 'early adopters', the first customers of Mekor Honda South Africa will demonstrate, you can be 19 or 90 and still have fun in a Brio!
| | |
| --- | --- |
| Jessica Frost collects her Honda Brio from Honda Tygerberg | Mrs Cohen collects her Honda Brio from Honda Melrose |
So after nearly 6 months on the market, what's the verdict on the Honda Brio? Has it lived up to customers expectations and what can we expect for the months to come?
Honda Brio Reviews
The South African reviews have been overwhelmingly positive, in particular with regards to passenger space, safety features, fuel economy, road-handling, and technical features. Most customers and journalists love the Brio's looks too, and there's no debating that it can't be mistaken for any other small car on the South African roads.
Read the reviews and road tests on the Honda Brio here…
TopCar.co.za Honda Brio Road Test
Wheels24.co.za Honda Brio Review
Wheels24.co.za Honda Brio Road Test
TopGear.co.za Honda Brio Review
So What's Next for the Honda Brio?
As well as the manual and automatic Brio hatch models launched in December 2012, there is much excitement about the new Honda Brio Sedan, expected to be launched in South Africa in June this year, and already available in other markets as the Honda Amaze.
Also anticipated is a Honda Brio Sedan Diesel. Incorporating Honda's new Earth Dreams technology this really will take small car fuel economy to a new level. We can't wait for more details on the South African launch, so watch this space!
If you're considering a small car, and haven't considered the new Honda Brio then visit your local Mekor Honda dealer in Johannesburg, Cape Town, or Durban to drive and make an informed decision for yourself.