News > Launch of Honda Civic 1.6l i-Dtec
2018-08-30 10:09:20


Launch of Honda Civic 1.6l i-Dtec Fuel Efficient Diesel in Europe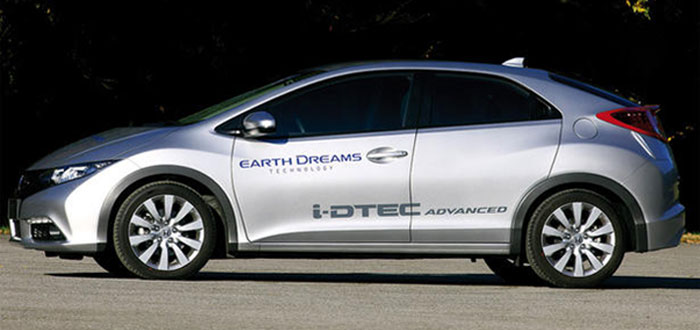 Honda launches a small diesel engine for the Honda Civic in Europe from January 2013. Achieving a phenomenal 3.6L/100km on the combined cycle, with only 94 g/km CO2 emissions on 88kw, the car will be a strong competitor in the corporate market.
The highly anticipated 1.6-litre i-DTEC engine has arrived, marking a new chapter for Honda diesel engines. The 1.6 i-DTEC is the first engine to be launched in Europe under Honda's 'Earth Dreams Technology environmental programme' offering the perfect balance of fuel efficiency, low emissions and exciting performance.
The new engine makes its debut in the British built Civic which will be arriving in dealerships from early next year, and will also be making its way into the new CR-V SUV later in 2013.
The all-new powerplant has been developed exclusively for Europe, and tested extensively on a variety of roads across the continent. As with the Civic itself, the engine has been built at Honda's state-of-the-art factory in Swindon.
This new engine catapults the Civic into the competitive corporate market, offering a 'no compromise' vehicle for the corporate customer. With a class-leading combination of fuel economy and performance, the new fuel-sipping Civic 1.6 i-DTEC keeps running costs low by emitting only 94 g/km meaning free road tax and with 78.5mpg on the combined cycle, it's longer between fill ups. Combine this with a pokey 88kW to maintain driver enjoyment and Honda's acknowledged reputation for reliability, it's a car which is expected to catch the eye of company car fleet managers and user choosers.
The 1.6 i-DTEC unit features a 6-speed manual gearbox and has an exact capacity of 1597cc and in the Civic offers a maximum power output of 88kW at 4,000rpm while maximum torque is 300Nm at 2,000rpm. The new variant will be available in three generously equipped trim levels. Prices will start at a very competitive £19,400 for the SE model, £20,595 for the ES and £23,175 for the top-of-the-range EX.
The specification for this trio of new variants will be identical to the equivalent 2.2-litre i-DTEC cars, but with the addition of new 16-inch alloy wheels. The 1.6 i-DTEC EX has also been enhanced with several desirable convenience features including front and rear parking sensors, an auto-dimming rear view mirror and DAB digital radio.
Honda's has been proven its environmental credentials with the i-DTEC diesel technology over a number of years. Firstly the 2.2l Accord Saloon/Tourer in 2008 and the award-winning CR-V SUV in 2010.
Interest in the new 1.6 i-DTEC Civic has been very positive in Europe and it's expected to be warmly welcomed as a fleet car. Contact your local Mekor Honda dealer to keep updated on timings for a launch from Honda South Africa