News > Win a Vision Scooter
2018-08-30 10:04:33

Win a Honda Vision Scooter from your local Honda Dealership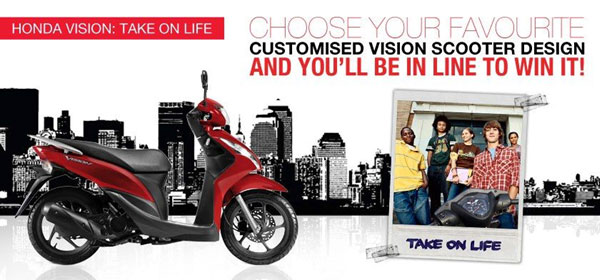 Honda South Africa is giving away FIVE Honda Vision Scooters between now and the end of 2012.
One lucky person who test-drives a new Honda Vision Scooter at our dealership and tags themselves on the Facebook page facebook.com/HondaVisionScooterSA will win a Honda Vision Scooter in time for summer!
There's also an extra scooter available, just for registering on the Facebook page.
The Honda Vision scooter is the perfect way to zip around town when the sun starts shining! With the convenience and cost-efficiency of a scooter, and the safety, engineering and design expertise behind Honda motorcycles, there isn't a better commuter motorcycle.
With a sleek body design, a relaxed seating position that comfortably seats two, plenty of storage both under-seat and in the leg-shields, the Honda Vision really is top of its class, and everything you would expect from Honda.
At just R13,000 the Honda Vision is an entry level motorcycle, but its anything but basic. It has a 108cc fuel-injected, four-stroke engine with electric start, with 5.97kW at 8000rpm and 8.4Nm at 6500, twist-and-go continuously variable belt-drive transmission, linked brakes and 14" wheels. At only 102.1 kg it's also easy to manoeuvre around kerbs.
The Honda Vision has great fuel efficiency of under 2l per 100km at 60 kmph, and premium braking makes it a safe ride, and a 2 year unlimited km warranty gives you peace of mind.
For more details, read the full specifications on our website, or read the review in IOL Motoring.
To enter the competition to Win a Honda Vision Scooter, just test drive a Honda Vision at our dealership between now and December 2012!